| | | |
| --- | --- | --- |
| Please click on any one of the following links to visit other sites that we recommend. The site will open in a new browser window so you can easily get back to our site when you're finished. imperialexpressions.norwood.com | | |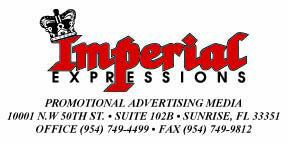 Product Categories- Automotive, Awards & Recognition, Badges,Bags & Travel, Bandages & Dispencers, Business & Desk Calendars,Clocks, Watches,Computer Accessories,Diaries,Drinkware,Electronics,First Aid Kits,Food & Edibles,Health Products, Etc.

For any promotion & giveaway, event, trade show,party, parade, concert, fesitval,sporting event or parade, there are beads!!!


Personal Lighting Products,Quality Writing Instruments,

Business Cases,Organizers,Totes,Duffels,Gifts/Accessories,Travel & Leisure Items - Wide Price Range

Full Assortment of Promtional Items / for Ever Size Budget

World of Gifts- Watches, Clocks, Portfolios,Calculators, Gift Sets Cameras etc

Pill Boxes,Kitchen Products, Jar Openers, Clip Boards

I am NOW a NIMCO Dealer!!!
Educational Material for: Tobacco(Lab Kits,Pamphlets,Models,Videos,Games,Posters, Displays etc.)
Violence Prevention,Abstinence,Sex Education,Character Building,Drug & Violence,Parenting etc. Check out the Web & CALL ME, Jill - Imperial Expressions 954-749-4499

Mugs,Glass, Tumblers etc.

Baby Products,Snow Globes,Frames, Night Lights,Kids Crafts , Personal Care, Banks and Much More

A wide variety of bags from neck wallets to weekend getaway travel bags. Computer cases, briefcase, travel messenger sports totes mini bags, fanny packs and more...........

Quality Designs- Metal Writing Instrument-(Harper Collection), Stylish Bestsellers-(Swizzle Collection),
Signature Series, Lecce Pen Collection,Evolution INnovations, PenCappers,Useful Vinyl Items Etc. GREAT LINE

JetLine- Over 500 Exciting Promo Products

Patriotic Items,Walking Winders,Stressballs, Silver Plated Products, @ Series, Global Theme, Pillowballs & Kickballs,Kaleidescopes,Nutty Putty,Tools,Knives, Spring Things,EtchA Sketch, Clocks, Desk Accessories, and Much MOre

Writing INstruments, Food Gifts, Candles, Bath & Body,Outdoors & Sports, Golf , Tools & Knives,Office Essentials,Key Chains, Travel/Personal Care Items, Health Items Bags, & Teddy Bears

KID STUFF -Balls,Beach Products,Bubbles,Crayons&Activity Books, Eggs, Fliers, Walking Springs etc.

Backpaks,Tote Bags,Sport Bags, Sport Travel, Drawstring Duffle Bags, Travel Accesories,Insulated Coolers,Lunch Bags,Briefcases & Messenger Bag,Padfolios,POrtfolios & CD Cases

SECURITY & CONVENTION WALLETS,Travel Accessories & Fanny Packs,CD Carring Cases,BriefcasesTranslucent Products- Messenger Bags, 6 Packs.,Insulated Coolers, backpacks,Sport Bags,Tote Bags

Pocket Sliders,Pocket Guides,Calendar Post Its etc. for Exercise & Nutrition, Banking & Financial Services,Women's Health, Safety & Security etc.

Magnetic Products, Laminated Products-Postcards,Self-Mailers,& Envelope Stuffers, Memo Boards,Laminated, cards, Bookmarks ,Rulers,Rotary Index Cards,Door Hangers,Note Pads,Mouse Pads

2005-Health,Wellness,Safety,Children,Financial Recognition

3-5 Day Standard Service
Computer Essentials,Calculators,Clocks,Writing Instruments,Office Essentials,Document Holders,Clip Dispensers,Collectible Caches,Strees Relievers,Executive Toys,Key Holders,On the Go, Radios,Measuring Devises,Tools & Knives,Tools & Lights, Logotec Bag



HIRSCH GIFT



Executive Gifts with Style, including a wide variety of Tech Products, Desk Accessories, Keychains, Writing Instruments, 3D Clarisso Crystal, Photo Frames, Travel Accssories, Ladies Gifts, Puzzles and Games. Express service also available.